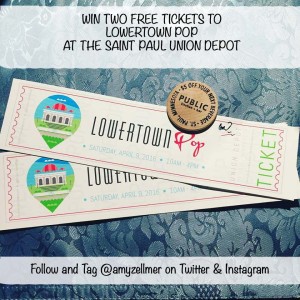 This past week I was one of about 50 Minnesota bloggers invited to a attend a preview of the Lowertown Pop at the Union Depot in Saint Paul.
Lowertown Pop is a Minnesota Maker movement, a pop-up shop, and crowd funding platform to benefit Face to Face as well as Minnesota Makers.
The Pop features local artisans and craftmakers,  brewers, bakers, distillers, artists, musicians, and so much more!
Lowertown Pop will be open to the public on Saturday, April 9th from 10am-4pm. Tickets are on sale for $10 in advance, and $15 at the door and 100% of ticket sales go to Face to Face and one lucky Minnesota maker!
YOU CAN WIN TWO FREE TICKETS!!!!!!!
                                                see full details below!
As part of my preview experience, I received a Swag Bag full of samples and goodies from the Makers. I have to tell you, this is one seriously impressive group of vendors! This is an event you won't want to miss!!! If nothing else, go for the inspiration!
A few of the vendors I had the pleasure of meeting include:
* From Your Mat: yoga inspired jewelry
* Velasques Family Coffee: fair trade Honduran coffee
* Sweet Jules: caramels and confections
* Debbie Wolk Designs: hand painted ceramics
* Julia Moss Designs: up cycled sterling silver
* Tattersall Distilling: local gin
* Superior Switchel: handcrafted outdoorsman's beverage
* Blue Henn: artisan cocktail syrup
* Grlk: garlic sauce
* D8agirl Design: hats, clothing, accessories
* Hart & Soul: natural apothecary healing
* Isadore Nut Company: nuts
* Stormsister: beauty products
* Bodylish: natural body products
* CCJS Boutique: yoga headbands
* Duluth Preserving Co: jams and preserves
* Tumblewalla: eco friendly baby clothes
* Minnesota Nice Spice: organic seasonings
* Antigone's: greek foods
* Scrappy Products: recycled totes and bags
* Double Take Salsa: salsa and hot sauce
* Union Depot Honey: local honey
WIN TICKETS!!!!
want two FREE tickets and a drink token???
Simply follow @amyzellmer on Twitter and/or Instagram
Share a post and tag @amyzellmer along with hashtags #LowertownPop and #MNBloggerBash